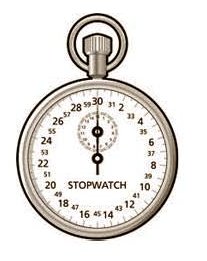 …Joe Rainsford and Lizzie Poole
With four victories out of four Joe was a comfortable winner in the men's races
In the ladies races however, it was a much closer affair.
With Lizzie helping Rob with the time keeping it asked the question whether a 14 point lead would be enough
In the end it was and but only one point separated Lizzie from second place Lily Winfield with Anna Shipley only a further three points behind in third.
There was some good running by all this summer but only one course record was broken with Lily lowering her own U15 girls record to an impressive 17 minutes 18 seconds.
Congratulations again to Joe and Lizzie – I've heard rumours of extra financial bonuses to be awarded this year (to be confirmed).
Full results can be found here: 2016 TT Final Results