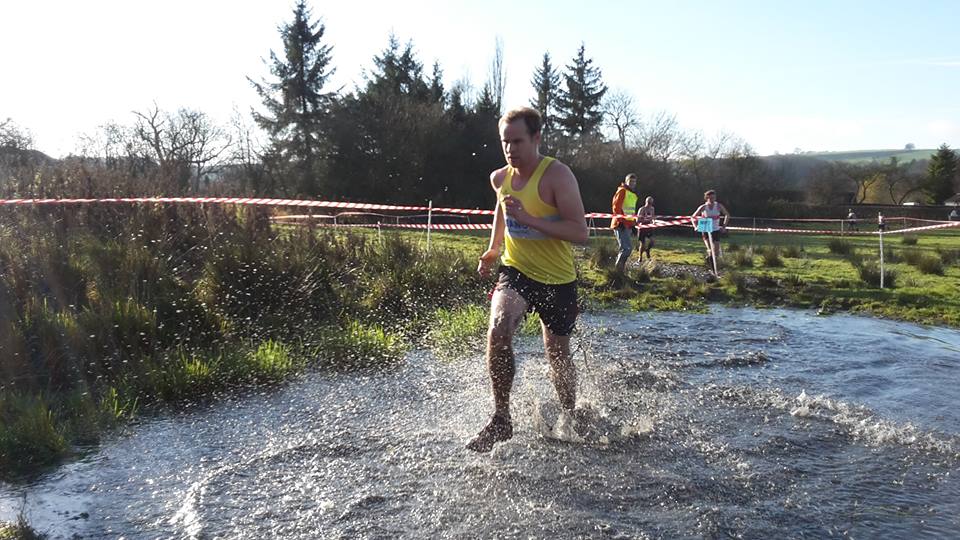 Heanor RC's Stuart King dominated to make it three wins out of three at the latest BDL fixture last weekend.
The brand new course, hosted by Matlock AC at Bakewell Showground, proved a resounding success as the three-lap route saw testing hills, soft ground and a small flooded section that wasn't most welcome on the final Sunday of November.
Eighteen runners in yellow and blue completed the race and, in addition to Stuart's individual triumph, Wendy Mullineux claimed second, four men finished inside the top-10 and the team took the spoils overall in the combined standings.
One of those inside the top-10, Chris Patterson, enjoyed a positive start to his Heanor RC running days despite taking a tumble mid-race. That slip didn't make too much difference and the thirty-one year old finished fourth on his HRC debut.
Steve Ashmore fended off the challenge of a fast-finishing Matlock AC runner to take eighth whilst Shane Rice, getting back into the swing of things following his recent marriage and honeymoon, worked his way through the field expertly to finish tenth.
All seven scorers closed inside the top-40, with Tim Holling (29:32), Gary Mellors (30:25), and Andy Parkin (30:47) combining to bring the team home a narrow first overall as it looks to claw back the deficit from the fifth-place opening fixture finish.
Wendy had to settle for second in the women's race behind Sutton AC's Michelle Willcocks. Laura Beth James-Hutchinson (35:00) and Lesley Smith (37:15) completed the team's counters and the trio finished second on the day.
Full HRC results below:
1 Stuart King (25:44)
4 Chris Patterson (26:44)
8 Steve Ashmore (28:03)
10 Shane Rice (28:14)
23 Tim Holling (29:32)
33 Gary Mellors (30:25)
36 Andy Parkin (30:47)
50 Wendy Mullineux (31:51)
59 Ed Godber (32:26)
61 Carl Hughes (32:27)
95 Richard Charlesworth (34:54)
98 Laura Hutchinson (35:00)
114 Mark Tomlinson (36:00)
133 Lesley Smith (37:15)
159 Jo Potter (39:19)
161 Rita Fisher (39:41)
183 Abbie Leivers (42:17)
208 Heather Wesson (48:02)
Full results HERE
Photos HERE