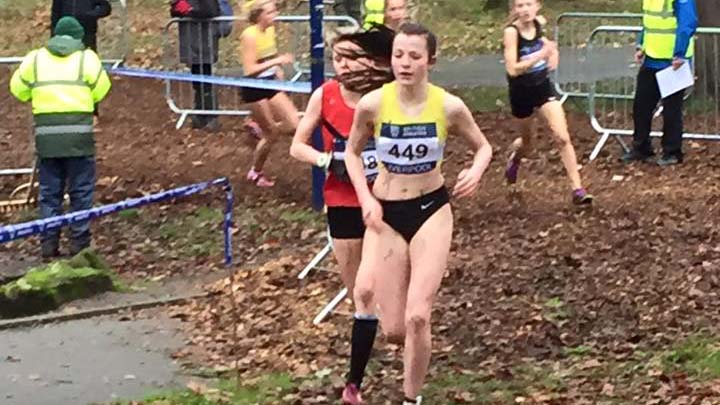 As the momentum of the cross country season gathers pace, Heanor RC juniors Lily Winfield & Ashleigh Armstrong headed to the North West to compete in the second round of the British Cross Challenge in Liverpool.
The event, which is renowned for attracting top athletes in all age categories from across the UK and providing real close races, didn't disappoint.
The predicted weather forecast of high winds and torrential rain held off for the junior races at the beginning of the day, giving them mere damp and cold conditions to contend with.
With a 12pm start, the U15 girls race got underway with a field of 94 runners racing over a 3km slightly undulating course.
Lily made a good start, sticking with the leading pack and holding a strong fifth position to the halfway point. As the race progressed, the front group was whittled down to two, with Lily having a tussle amongst the chasing pack.
Lily finished a credible 14th position in a national standard start list, only 36 seconds off the winner Olivia Mason from Border Harriers. The quality of the field was exemplified by the fact that positions 9th to 15th were covered by only 6 seconds.
With Lily's 6th place in the first round at Milton Keynes, she will now be looking forward to consolidating her position in the overall standings on 16th January for the 3rd fixture in Antrim, Northern Ireland.
Since moving to Heanor RC this autumn, Ashleigh Armstrong is making her own mark after scoring some great results already in the Heanor vest. Ashleigh worked her way through the field, enjoying her own battle with Blackheath and Ribble Valley athletes, finished 37th.
It was Ashleigh's first outing at British Cross Challenge event and she too is looking forward to making the trip to Ireland next month.
Full results HERE
Words and image: Paul Winfield