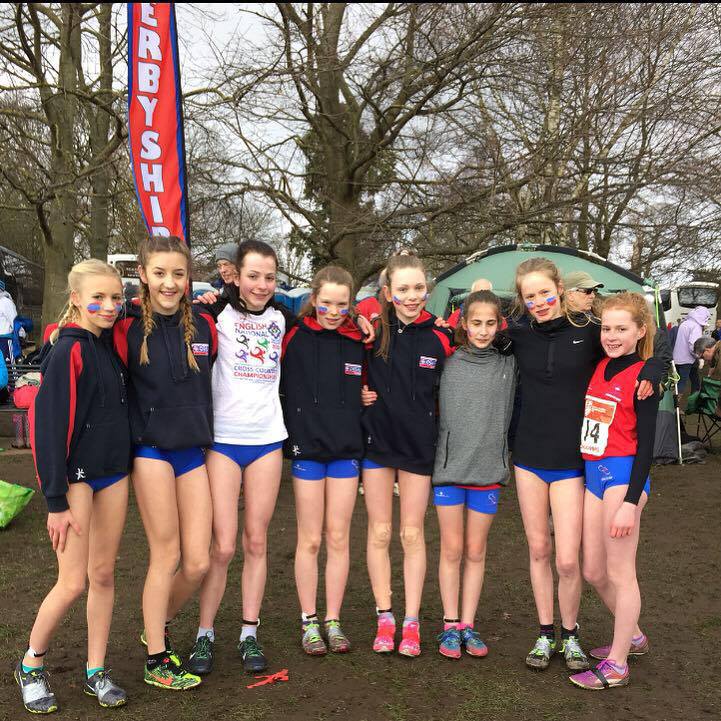 Heanor RC junior athlete, Lily Winfield, scored a hugely impressive top-10 finish at the English Schools National Cross Country Championship at Wollaton Park last weekend.
The prestigious annual event is a breeding ground for future Olympians and international athletes and saw Lily enjoy the best race of her young running career so far.
Lily bounced back from her disappointing finish at the National Cross Country Championships the week before to finish 7th in the junior girls event as she delivered an excellent performance that matched her growing potential.
From the gun, Lily made quick progress through the 339-strong field before settling into 6th place just behind the main leading pack.
Heading into the final 500m, the fourteen-year-old dropped one position before being involved in a close battle with athletes from South Yorkshire and Somerset.
Lily held on to 7th – a remarkable improvement on her 75th-place finish in 2015. Just 24 seconds off the race winner Emily Williams from Northamptonshire, Lily also led the Derbyshire team to fifth overall.
With the first-8 finishers also being automatically selected to run for England, Lily can now look forward to representing her country and club in Falkirk on 19th March for the Home Countries International.
Coming off the back of a fantastic run the previous Saturday at Donington Park, HRC junior Ashleigh Armstrong also put in a great race to finish 84th.
Despite being a little slow out the blocks, Ashleigh moved through and ground out a very credible result, making a massive 160-position improvement from 2015 when she finished 244th.
Rounding off the yellow and blue representation at Wollaton Park was Mollie O'Hanlon. Mollie, who competed in the intermediate age category, was making her competitive comeback after sustaining an ankle injury at the Midland Counties XC at the end of January.
Mollie finished 341st in her first run since injury.
Full results HERE
Junior girls race video HERE