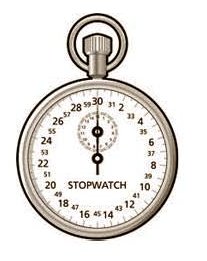 With just one more time trial left to run, all is still to play for as the fourth and final time trial of 2014 takes place this Tuesday.
Lizzie Poole currently leads the ladies' standings having accumulated an impressive 66 points from the three time trials so far. Jo Potter and Rita Fisher lie just three and four points behind respectively but the biggest threat could come from age category record holders Lily Winfield and Wendy Mullinuex.
Lily and Wendy enjoyed successful outings in their first two time trials as they set new records on both occasions in the U13 and senior categories respectively. But both girls have only completed two out of three and, with a runner's best three performances out of four counting towards their final position, Lily and Wendy could mount late pressure.
Despite being just one point ahead of nearest rival Steve Ashmore (and two in front of both Tim Draycott and Dylan George), Ashley Deeming is in pole position to take the men's title – barring a no-show, disaster or surprise performances from elsewhere.
Ashley remained on top last month despite only taking 18 points in his last outing. With a cool 24 and 23 points gathered in his first two time trial events, however, Ashley only needs a better performance than last time out to more or less guarantee himself the title.
Current standings HERE