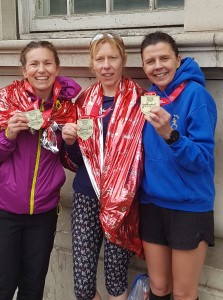 The Virgin Money London Marathon is a special day in most runner's diaries. This year wearing the yellow and blue  (and with impressive times too) were:
Chris Patterson (2:51:30)
Rachel Shelbourn (3:01:26)
Jayne Lynas (3:32:59)
Jo Potter (3:42:16)
Sarah Whittle (3:45:12)
Carla Fox (5:06:19)
And not forgetting Sam Marsh who was representing the East Midlands in the Mini Marathon.
It is always good and interesting to hear from the runners themselves. Here Rachel Shelbourn and Jo Potter share their experiences of their training, build up and of biggest marathon in the country:
Rachel writes:
"So the training started as ever in the new year with 16 weeks to go. I managed to get all the miles in but speed work was lacking from being so tired with the many strength and conditioning classes I teach. That said I got to London feeling pretty strong as well as nailing the nutrition this time around was hoping these factors would get me round in a decent time.
 So there was little old me in the championship start again for the second year running. First time in my HRC vest and wanted to do well for the club, but really had no idea what pace to go for. Last minute decision.. just go all out for a PB and hope and pray the amazing atmosphere and my stubbornness would see me to the finish.
And we were off, on a perfect day to run. Slight breeze, overcast and spot on temperature. I had warmed up this time, around which isn't my usual marathon routine. The first mile went pretty much as planned pace wise and felt easy. A few mile later I looked down at my garmin.. ooops! A little too fast? But felt easy enough so pushed on. I then hit the half way mark only seconds away from my personal best. I thought this could be a big mistake but again felt comfortable. Mile 15-17 and still felt the same, a big shout out from Rob and Jan. I thought you know what I'm cracking on with this, hopefully to the finish.
And there I was in 3:01:26. Almost my perfect marathon other than a 24 second positive split.
 Great atmosphere in London as always. I'm again amazed how smoothly such a big race runs. Organisation and support in route like no other. Can't wait to return again next year."
Jo had the Club's allocated place and did HRC proud, here Jo writes:
"Wow! What a weekend. London Marathon in the bag!            YEAH!
I just want to say a huge THANK YOU to HRC for giving me the opportunity to be able to run in this Iconic Marathon. After getting the club place, I really wanted to do my absolute best and do HRC proud! T
o start with I was daunted by the whole thing… How will I fit in all those long runs?.. Will I get injured?.. Does this mean no more Prosecco? However, I started to love the training and then started to see the improvement I was making.
All that hard work and prep, nerves and doubts and then finally the big day arrived.
Weather conditions were great… not too hot. In fact it was quite cold at the start. Then finally we were off… this is it! OMG! Stay calm! First mile done-a bit too fast! Stay calm! Stop looking at your watch! STAY CALM!
I settled into it and the first 8 miles seemed to go by quickly. I have to say running over Tower Bridge was a highlight. Things were going well until I started to get a niggle in my back making the last few miles a struggle…
Then BOOM! GET IN THERE! There was the finish line. I can't believe it. I have just run the London Marathon 2019 in 3 hours 42 mins 16 secs.
It was an absolute pleasure to share this experience with Sarah Holme, Jayne Lynas Carla Fox, Rachel Shelbourn, Chris Patterson and of course John Queenan. I know John didn't get the result he was hoping for but I can't not mention him as his moral support, encouragement and belief in my own performance was well appreciated. Heartfelt thanks has to go out to the HRC family that supported us along the way through all that training and on the day itself. Your messages of good luck and cheering us on in the crowd meant a lot.
Also a huge THANKS to our coach Rob. Thank you for the advice, tips, patience and encouragement.
What a way to celebrate being 50!"
Another big PB was set by Jayne, here she gives her top 10 highlights:
"This is the 3rd time that I have run London. I got my place through the Good for Age entry process.
Here are my 10 highlights of the 2019 London marathon (in no particular order):
Having perfect conditions to run in. London is a mainly flat course and the temperature was spot on – nothing near tropical this year.
Managing to have all of the right kit, including an oversized bin bag to keep me warm right up until the start of the race.
Fantastic crowd support for the whole of the 26.2 miles. Having my name on my vest gave me extra shout-outs at points when I most needed it (sorry Rob for defacing the sacred yellow and blue HRC vest).
Seemed to get my fuelling strategy right and get gels and fluids on board at the correct times. No major disasters trying to open gels, accidentally squirting them all over fellow runners. We've all done that surely?
Overtaking various runners in fancy dress, including Big Ben, who everyone saw on the telly. Also overtook a unicorn, Wonder Woman and a man wearing a tent, who I suspect was regretting his costume choice by mile 23 as he seemed to be struggling with some unwelcome vertical uplift from the flimsy material.
Not being overtaken by anyone in crazy fancy dress.
Running a shiny new 3 minute PB of 3:32:59 (including a surge at the end to dip under 3:33) and hopefully gaining a Good for Age place for VMLM 2020.
Meeting up with so many fabulous HRC members afterwards – runners and supporters alike – for hugs and general celebrations.
Hearing my 12 year old son (who tends to be sparing with his positive parent praise) say "wow, well done on a new PB mum. I didn't think you'd run as fast as that."
Wearing my "bling" medal around fancy London town on Sunday evening and bagging a free gourmet burger, free glass of champagne and a free G&T. I think the extra walking on Sunday aided recovery of my legs too. Win win.
 CHEERS VMLM 2019. Hope to be back in 2020!!"
And so to Sam Marsh's report on the Mini Marathon and his cracking run in the under 17's:
"We got on the coach at Loughborough university on the Saturday and travelled down. We had a great time when we arrived at the royal Holloway college but before I went to sleep I pinned on my number and got my head down ready to focus on the race.
I had to wake up at five am and was on the coach for six. I took the time on the bus to focus and really set a plan in place. we got to the Holding area with an hour to go and I tried my best to do a static warm up. We got called up to the start and I got my way to the third row (it was like a professional wrestling match even for third row). The gun went and I really had to push hard to get to the front group. I sat into the front group where we averaged 5:02 miles. They then put the burners on and I couldn't react I really had to hold on but I managed to finish in 40th with a time of 15:17 which i was happy with. Overall it was a really positive experience."
Next year, this could be you enjoying the London Marathon experience!
The entry ballot is open, but only until Friday 3rd May. Go to https://www.virginmoneylondonmarathon.com/en-gb/how-to-enter/ballot-entry/  for more information – and good luck.
And if you are unlucky then there is always the Club place – fingers crossed!