Record finishers for biggest Pudding Run yet!
Despite the best attempts of the weather during the week before and on the day a record number of entries turned in to a record number of finishers (1093) in the biggest Matthew Walker Pudding run yet. Massive thanks should go first of all to those who gave up their spare time to clear the course and make sure all was good to go.
The race started off in drizzly rain but this didn't damper the spirits of those running and spectating as 1092 runner (and 1 tree) set off to cover the 10km course. Returning local boy Chris Rainsford was the first home in the rapid time of 32:56 followed by Eddie George from Holme Pierrepont RC (35:18) and John Hayman from Royal Sutton Coldfield AC (36:28).
In the ladies race,Charnwood AC's Gemma Steel led the way with a fine 36:47 to claim first prize followed by Chrissie Dover from Derby AC (38:37) and Ruth  Keeley from Belper Harriers (42:23).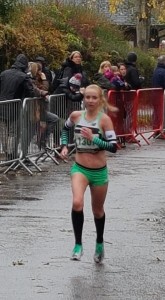 And the runners just kept on coming keeping the mass ranks of Heanor RC members busy as they collected their hard earned puddings, t-shirts, mince pies and mulled wine. Not forgetting a tree from the Woodland Trust.
All the results can be found here: results.sporthive.com
Photos of the event, courtesy of Mick Hall, can be found here: mickhall.zenfolio.com

There was a brilliant turnout and some fantastic running from the youngsters in the Fun Run.
On a new course 58 runners were ledhome by Heanor's own Archie Winson.
Results can be found here: FUN RUN RESULTS 2019
A special thanks to our race sponsors and supporters:
Matthew Walker – Christmas Puddings
Mr Bit Window Cleaning (07906 851664)
Rob Rainsford School of Motoring (07963 037991)
Decathlon – Sponsor of the Fun Run
Derby Runner – serving the needs of runners for over 30 years
Mick Hall for his excellent race photos
Koffi2go – quality local coffee
Easibind
Clearfirst – Drain and Pest Control
Mr & Mrs Wilks – accountancy services
NMCN Building Contractors
Shipley Park, for use of the park and "Green Room"
The Wolf Hut, providing food and drinks
Friction Sports Massage Therapy
Pure Steel, steel band, located by the cafe
The army of HRC members involved in the staging of the race
Santa on the lead bike!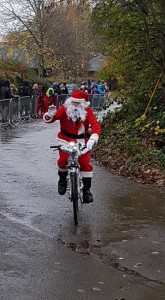 Hope you all enjoyed the day as much as we at Heanor RC did.
If you did, we're back for the 34th Matthew Walker Pudding Run on 15th November 2020 (save the date and get in early!). Entries are now open on www.runbritain.com/races
But if that's too long to wait, we also host a Midsummer Running Festival with a choice of 5K or 10K (or both) on Friday 19th June 2020. Again entries are open on www.runbritain.com/races.