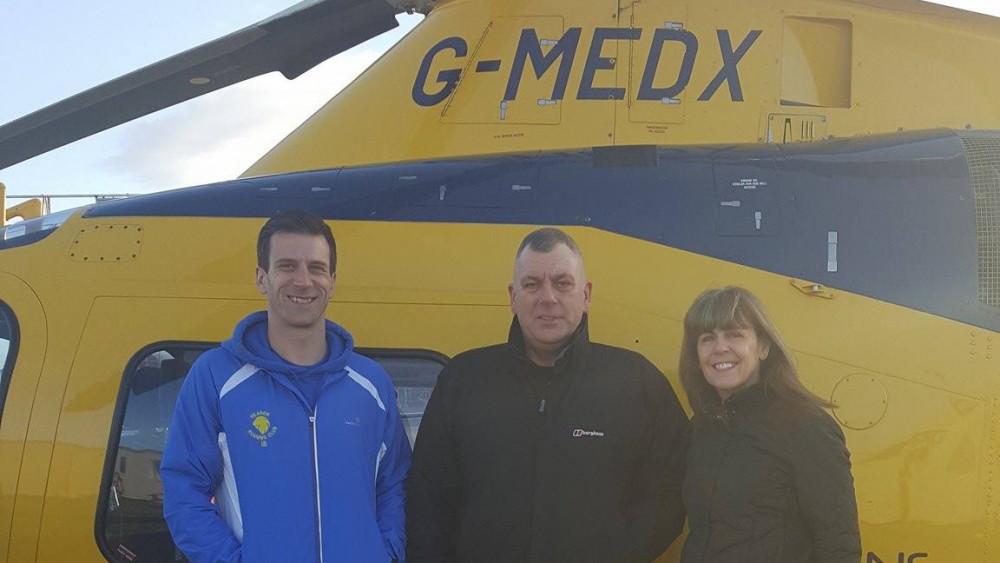 Club chairman, Rob Rainsford, treasurer, Yvonne Hobday, and secretary, Ian Salt, presented the Derbyshire, Leicestershire and Rutland Air Ambulance service with a cheque for £1,000 following the sold-out success of the Matthew Walker 10k last November.
This year's event was the second year in succession that saw part of the money raised from race entries donated to a local good cause.
One pound from every entry received went towards supporting the excellent work provided by the service, which covers an area of 3850 square miles and has an average response time of just 13 minutes.
The charity receives no government funding and relies entirely on public donations. Collette Richardson, fundraising coordinator for DLRAA, said: "I'm delighted to receive £1,000 from the Pud Run to support their local air ambulance.
"We've been able to fund one mission just from the money donated by the Pud Run alone over the last couple of years. The support really makes a huge difference to supporting the lifesaving work of the charity."
The impact that the money raised has plus the nature of the work involved meant the decision to support the Derbyshire, Leicestershire and Rutland Air Ambulance service for a second-successive year was a no-brainer.
"We considered many worthy charities before deciding on the air ambulance service again this year," said Rob. "It costs £1,500 to attend an accident regardless of the severity so we hope this relatively small contribution can continue to go a long way."
Hannah Viner and Matt Bickerstaff led home the sold-out field in November as runners from across the country completed the undulating 10k route in the 30th-anniversary of the race.
Runners rewarded with a hefty Matthew Walker Christmas pudding and limited edition t-shirt for their efforts. 32 runners also took part in only the second-ever 1.5-mile fun run held prior to the main event.
Rob added: "We would like to thank everybody who participated in last year's event and for playing their part in ensuring the excellent work of the charity can continue."