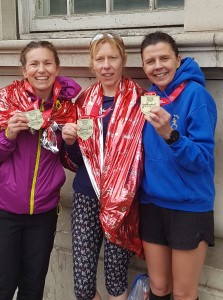 The weekend of the London Marathon is always a busy one, and Heanor runners were on their travels to make it busier than usual.
Friday 26th started off with Joe and Paige travelling up to Kingsley in Cheshire for a fast 5K
Highly recommended by Joe who dipped under 15 minutes for the first time with 14:57 and Paige who got herself a cracking time of 21:49.
Joe writes:
"Fridays race started after the slight disappointment of Derby 10k. Being slightly disappointed with 2nd place may sound daft but it was a good 30odd seconds off my personal best and not the race I wanted in the end, but as the famous saying goes 'you can't PB all the time!'
Focus turned to the Mid Cheshire 5k in Kingsley which is renowned for having a strong/fast front end with last years winning time being 13.45. My aim for this race was to get as close to 15mins as I could as my target for this summer is to go under 15mins on the track, something I've never done with my PB being 15.09. This will then in turn help to bring down the 10k time in the future!
Training had gone well since Derby 10k, 10x600m at the track on Tuesday was my last effort before the race as I had two recovery days before the 5k.
I was off on Friday and was waiting for Paige to finish work, we eventually left around 3.45 and was over a 2 hour journey, (all that way for a 5k!) we arrived just before 6 in the middle of nowhere, but it was a perfect night and what looked like the perfect route. Feeling relaxed and happy we warmed up together and were ready.
The race went at 7.15, the start was gradually downhill for 1mile and I clocked a first mile time just 2 seconds short of my Sam North Mile PB of 4.31.
Feeling good, and relaxed still, we turned a corner and had an uphill up to the 2k marker, at this point there was a group of around 20 runners battling it out at the front, where I was leading the chasing pack.
The course was undulating between 2-4K but nothing severe. As we turned the 4K corner, we were back on the same straight as the start, gradually downhill and I was catching some stragglers from the lead group.
'400m to go' sign appeared and I glanced at the watch I knew it was close to being under the 15minute barrier which is the 2019 target, '200m to go' and unbeknown to me I actually have a bit of a kick. Holding off some heavy breathing behind and pushing for the line, the clock ticking away in front of my eyes.
14.57! I had surpassed my expectations. And buried a few psychological demons from Derby!
Surprised. Delighted. Giddy. Knackered.
Full range of emotions.
The 1hr 45min drive back was made all the more worthwhile. Highly recommend this race if you're looking to get a quick 5k time in a quality ridden field. Possible note for your diaries is the summer version of this on Thursday 27th August.
After achieving the 2019 target in the first race of the season, confidence is high and I'm looking forward to seeing what comes next in terms of the 5k distance this summer. Excited."
On Saturday Amber and Elaine Wilkins returned to the Brierley Forest ParkRun and followed this up on the Sunday with the Longhorn 5K and 10K.
Elaine writes:
"Well this weekend started with Amber and I going to a parkrun as Emma was doing her D of E away trip for the weekend.
Amber decided on Brierley Forest Park run, as this seems to be her favourite at the moment. She said to me in car on the way there "I'm going to take this one steady as I am running another 5k tomorrow at Longhorn and I really want to do well in that one" so I said "No worries, this one is just so you get your 10th Park run in"
Well, the weather was pretty awful, lots of rain and very cold. We set off and Amber has gone, left me for dead at the start…obviously I never caught her with an amazing time of 22.40 and 2nd female to cross the line.
She then had another race in her sights, the Longhorn. Amber didn't have to start her race until 12.15 but as I was in the 10k she had to be there early for me, this meant lots of hanging about being a bit chilly waiting to even warm up. By the time that I had completed my 10k it was time for Amber to start getting set up for her run. She wanted this one so much. Amber set off looking strong and by the half way point was still looking good. She managed another amazing time of 22.45. This time though the course is tricky, it's like a trail run, plenty of mud, hills and gravel to get through. Amber finished 1st female and 6th overall.
Well done Amber."
Also on Sunday, Chris Cotton travelled to Stratford to tackle the Shakespeare Half Marathon with an impressive 1:35:01.
And so to the main event, the London Marathon 2019.
Representing the club with some distinction (and impressive times) were:
Chris Patterson (2:51:30)
Rachel Shelbourn (3:01:26)
Jayne Lynas (3:32:59)
Jo Potter (3:42:16)
Sarah Whittle (3:45:12)
Carla Fox (5:06:19)
A massive well done to you all from everyone at Heanor Running Club!