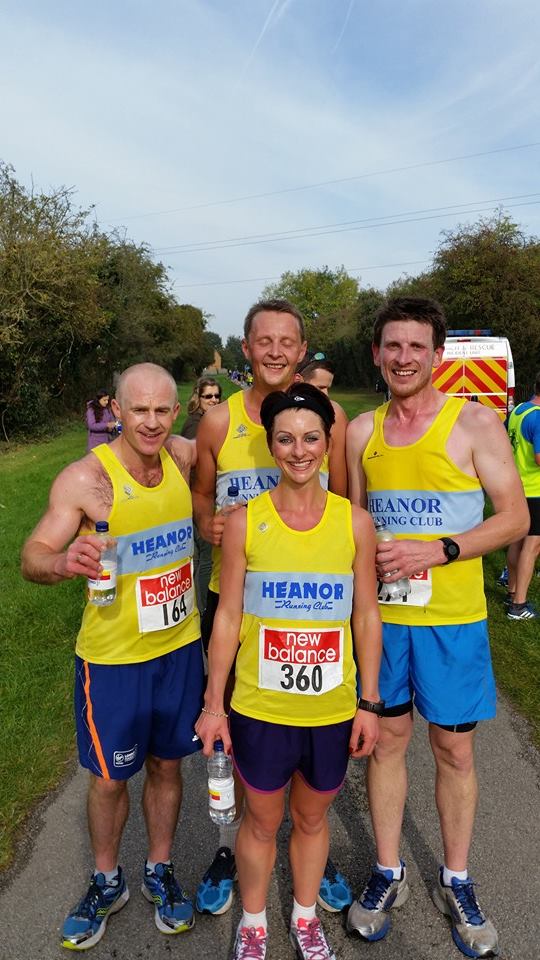 An action-packed weekend for Heanor RC saw a huge seventeen-strong turnout, race winners and a multitude of personal bests at the Shelton Striders 10k, a 56th-place finish for the senior men at the ERRA National 6 Stage Road Relays and another Midland Masters title for Louise Insley at the Rugby 10 Mile event.
Stuart King and Lisa Palmer took the race victories as well as maximum points in the tenth event of the 2014 Heanor RC Club Championship at the Shelton Striders 10k last Sunday.
Just twenty-four hours after clocking the club's fastest time at the ERRA National 6 Stage Road Relays in Birmingham, Stuart breezed his way to a decisive twenty five-second victory in 32:25.
Having taken on first-leg responsibilities for the national final the day before, Joe Rainsford finished fourth in 33:50 as the men's team now look towards the first North Midlands Cross Country League fixture this weekend.
Lisa Palmer (36:21) narrowly missed out on a new personal best but went home with the ladies title as she finished eleventh whilst Jill Burke (40:55) ran her fastest time since 2012 to take the V50 honours.
On a perfect autumn morning, Carl Hughes (39:15) ran a seventeen-second PB but was just pipped to the post by teammate Lee D'Arcy (39:13). Rob Page (39:58) dipped inside the 40-minute barrier for the first time whilst Gary Mellors finished just outside but went home with a huge new personal best of 40:01.
Fresh from her half marathon PB-breaking performance at the Robin Hood Half Marathon the week before, Laura Beth James-Hutchinson chopped another fifty-four seconds off the 10k best she set just last month at the Wilne 10k as she ran 42:09 for fifth-placed female.
More personal bests came the way of John Flint (43:34) and Scott Wigman (45:02) whilst Abbie Leivers (47:04) missed out by just one second on recording her second PB in a week.
Ed Godber (43:05) and Paul Winfield (43:21) were closely packed inside the top-90 whilst Steve Wardle (47:54), Rita Fisher (48:47) and Jo Potter (49:19) all dipped below the fifty-minute mark.
Full results HERE
Heanor RC's juniors repeated the senior success by sweeping up the first boy and first girl honours in the Fun Run.
Dylan George – just one day after finishing second at a Nottinghamshire Schools XC event – dominated on the road to enjoy victory by thirty-four seconds ahead of teammate Lily Winfield, who finished a clear second herself and can now look forward to the first cross country fixture of the winter at Markeaton Park, Derby on Saturday.
Full results HERE
Louise Insley added another Midland Masters title to her collection with victory and personal best at the Rugby 10 Mile event. The current British Masters 10k champion and track 5,000m bronze medallist looks to be rounding into good form again as she secured a clear victory in 63:51.
Full results HERE
On the east coast at the Mablethorpe Marathon, Garry Cooper was the sole representative in yellow and blue and clocked a personal best of 3:15:52.
Full results HERE
Kicking the weekend off were the senior men at Sutton Park, Birmingham as Joe Rainsford, James Mee, Stuart King, Shane Rice, Stuart Chadwick and Tony Weatherson competed against the best in the country at the ERRA National 6 Stage Road Relays.
In an event that has seen the best of British, including Dave Moorcroft, Brendan Foster and Mo Farah, battle it out over the undulating 5.8k course over the last sixty years, Heanor RC competed well but weren't able to match their top-30 efforts from 2013.
Having qualified in seventh from the Midland event on the same course two weeks ago, Joe was tasked, unusually, with the opening leg and ran 18:44 to come back 48th. James (18:47) took over on the second leg and, like Joe, was just marginally slower than his performance fourteen days before.
Stuart (18:32) clocked the fastest Heanor RC stage of the day and brought the team into its highest position at halfway of 32nd. Completing the team's efforts were Shane (19:40), Stuart (21:24) and Tony (22:26), who crossed the line 56th.
Full results HERE