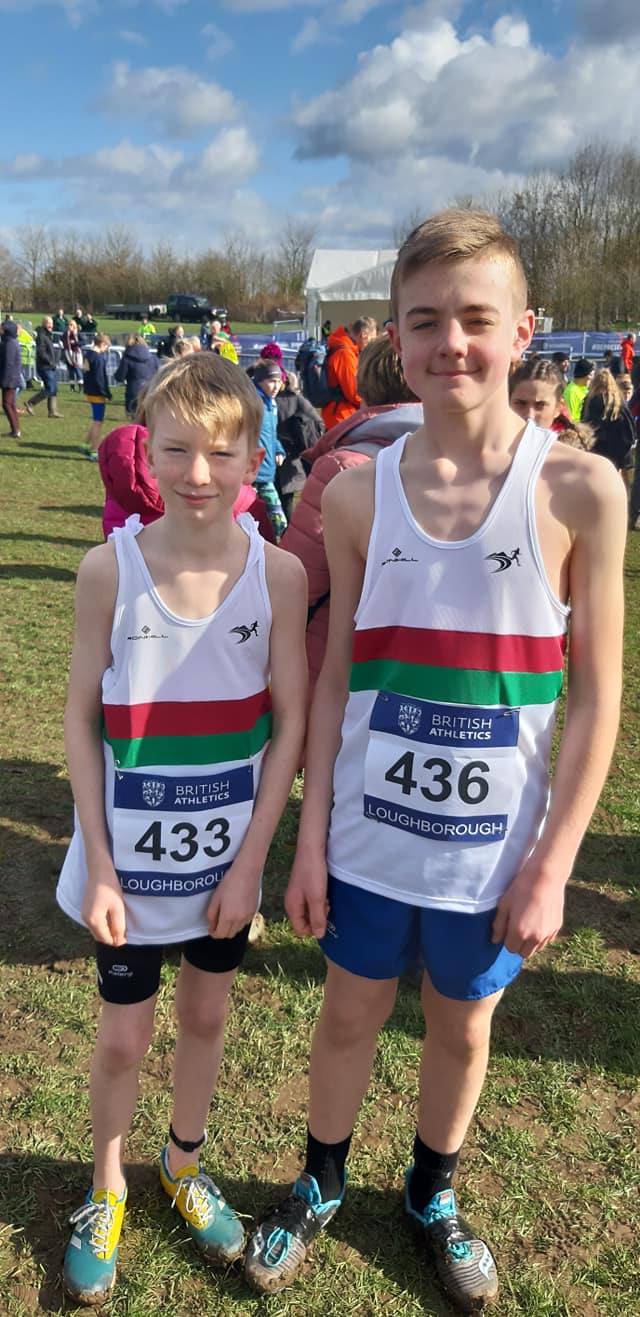 Weekend Round Up – 9th and 10th March
Saturday 9th March was the turn of the Inter Counties Cross Country and World Cross Country Trials at Prestwold Hall, so very local. We had a number of athletes compete:
Owen Lynas and Archie Winson – U13 Boys
Joe Rainsford and Chris Rainsford – Senior Men
Samantha Crowe – Senior Women
Here is Sam's report from the event: 'Well where do I start? As most of you know I picked up a calf injury at the beginning of October and although I have raced some races since then, training sessions have been few and far between.  The aim for a long time has been to get a county vest and again with no training I turned up at Wollaton Hall and managed to qualify. As mentioned training has been limited, after seeing Physio and club member Amanda Heading she advised to train a day on, day off, so for the last few months that is exactly what I have done. I turned up today with little pressure but as we all know that counts for nothing when you are a runner, as we always want to perform to your best. Can't lie it took a long time to get a vest that fitted, as mine had somehow gone missing from the box, this did not help my nerves, but I eventually got it and was happy to put it on (proud moment). We made our way to the start line, which was very wide and full of pens, this was scary anyway especially when you haven't done it for many, many years.  Anyway the girls where talking at the start 'apparently its not that hilly' – What a lie this was!! We set off and to be honest I had not looked at the course or worked out how many laps we had to do, coach had thought it was one small and two large and he was right. The one small was small however the large was LARGE, after the first one I thought I was never going to manage another, the wind was horrendous and the 'flat course' was not flat there were some long hills and as I haven't been training I lost a lot of places on everyone. Equality made the course 10k, same as the men, I can say on this occasion I did not appreciate this. A 10k flat road race is hard enough never mind a windy, hilly and muddy 10k. Anyway I managed to come 4th counter for Derbyshire and 201st overall in a time of 47.35, normally I wouldn't be happy with this result but on this occasion I was just happy I got to wear my vest.'
Other results:
Archie Winson – 238th 14.23
Owen Lynas – 273rd 14.51
Chris Rainsford – 49th 35.07
Joe Rainsford – 99th 36.16
Some great results, well done to all who took part.
Sunday 10th March was the turn of the Fradley 10k.
Ryan Ball writes: 'Fradley 10k has been a happy hunting ground for me in the past. A pancake flat 2 lap course. On the start line today I was raring to go after putting in some good training and a pleasing Dewsbury 10k last month.
The horn sounded and the first 2k I clocked 7.30. the head wind started to become a factor for the next few kilometres and I was working a lot harder than anticipated.  Going through half way in 19.20 gave me a boost as I was inside my PB. Once again the head wind just about put me to a standstill and I couldn't get back into my rhythm.  The last kilometre, the wind was behind me and I could see the finish, this spurred me on to dig in deep to dip under 40 minutes. However it wasn't meant to be on this occasion, crossing the line in a chip time of 40.01′