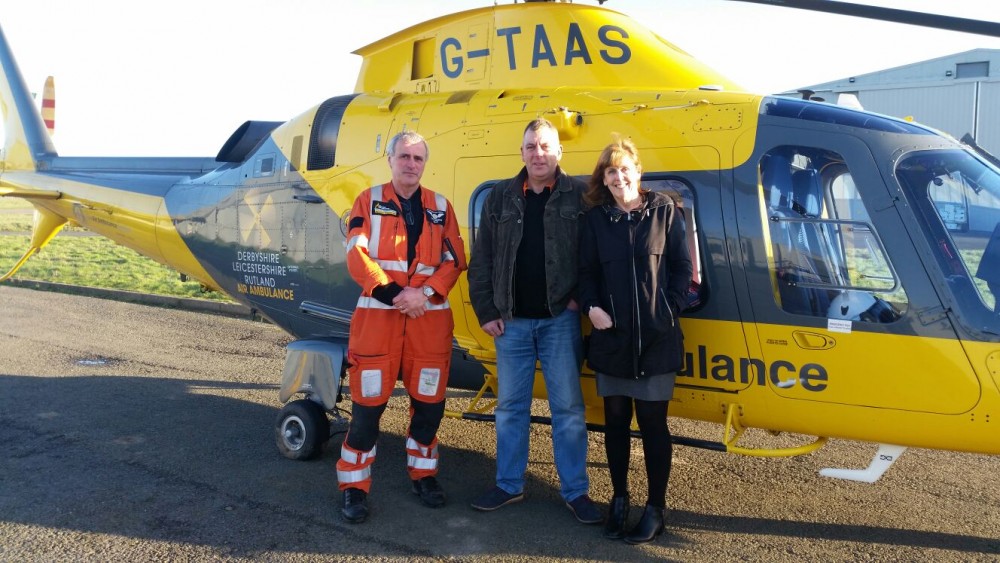 Club chairman, Rob Rainsford, and treasurer, Yvonne Hobday, went down to East Midlands Airport earlier this month to present the Derbyshire, Leicestershire and Rutland Air Ambulance service with a cheque for £1,000.
The grand total was raised from our Matthew Walker Christmas Pudding 10k in November, where £1 from every entry went towards supporting the excellent work provided by the service.
Providing a rapid response to an area of 3850 square miles, with an average of just 13 minute response time, the charity receives no government funding and relies entirely on public donation.
Collette Richardson, fundraising coordinator for DLRAA, said: "I was delighted to receive £1,000 from the Pud Run to support their local air ambulance. It really does go to show that even £1.00 from 1,000 runners really can make a huge difference to supporting the lifesaving work of the charity."
This year's event was the first to see part of the money raised from race entries donated to a local good cause. It is something the club plans to do again for this year's event on Sunday 20 November – an announcement on this year's chosen charity is due in February.
"We considered a number of other worthy charities before deciding on the Derbyshire, Leicestershire and Rutland Air Ambulance this year," said Rob. "One of our members had to use the service recently and so, out of all the good causes out there, this one seemed just a little bit closer to home."
Alastair Watson and Jane Potter led home a sold-out field in November as runners from across the country completed the undulating 10k route round Shipley Country Park.
Almost 50 runners also completed the first-ever 1.5 mile fun run prior to the main event and plans are already underway to ensure the 30th-anniversary of the race is one to remember.
Rob added: "We would like to thank everybody who participated in last year's event and for playing their part in ensuring the excellent work of the charity can continue."