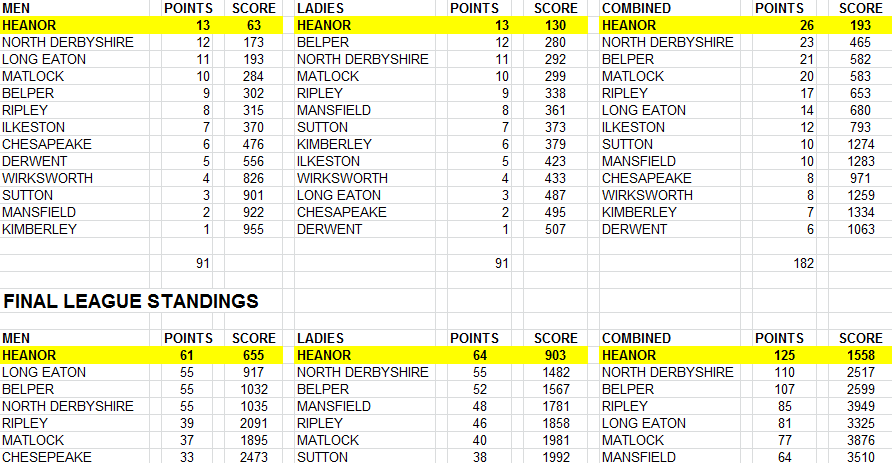 Joe Rainsford led the field home at a canter in the fifth and final BDL XC of the season at Holmebrook Valley on Sunday as birthday girl Lisa Palmer made it four wins out of four in the female standings.
The victorious men's team retained the overall title for another year by a six-point margin whilst the battle for second went down to overall score for the season as Long Eaton, Belper and North Derbsyhire all tied on 55 points.
After a disappointing fourth-place twelve months ago, the HRC women's team showed how good they can be as they dropped just one point over the season to enjoy clear team victory, making the race to the combined title a formality.
Lisa Palmer, absent at the opening fixture due to HRC involvement at the Valencia Half Marathon, ensured she finished the season on top to win by almost two minutes ahead of Mansfield's Alice Venkatesan.
Lousie Insley placed 36th and first in her category, just fifteen seconds off second, as Wendy Roethenbaugh, in her debut season for the club, finished 71st (& first V45). Finishing as the third counter, Wendy was also the only female to compete in all five races this season.
Jill Burke (93rd) took first place in the V50 standings as Jo Potter (120th), Abbie Leivers (129th) and Rita Fisher (137th) rounded off the women's efforts superbly in tough conditions.
Joe Rainsford, 24th at the Midlands XC Championships two weeks ago, followed up victory at the Allestree Park BDL to win for the second successive race and finished over a minute clear of teammate Stuart King in second.
Stuart, who competed in the 1500m at the British Indoor Championships in Sheffield twenty four hours before, finished comfortably clear of North Derbyshire's third-placed Andy Tarry.
The quartet of Shane Rice, Steve Ashmore – showing a real return to form – Ashley Deeming and Tim Holling backed the leading duo up brilliantly with top-12 finishes as Ed Godber completed the scoring seven in 44th.
Paul Winfield and Gary Antcliffe finished 63rd and 96th respectively to ensure they, along with Steve Ashmore, completed all five BDL races this season whilst Paul Mercer (56th), Richard Charlesworth (75th) and Paul Bratby (122nd) were also in action on the windy and sodden North Derbyshire course.
Full and final results HERE
Paul Clarke's race video HERE
Updated Club Championship table HERE