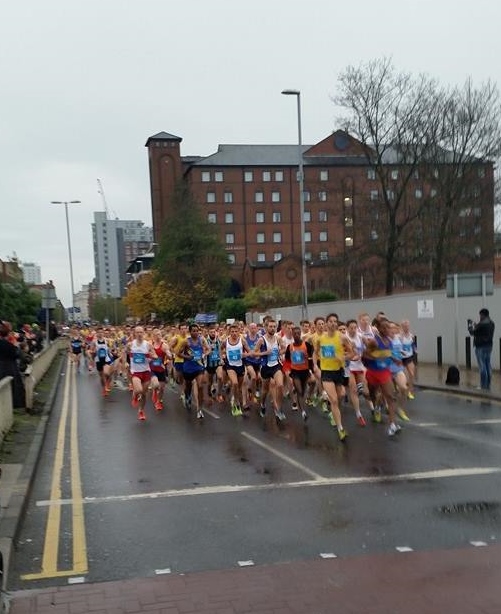 Heanor RC's trip to the North for the final Club Championship event of the season brought personal bests galore at the Leeds Abbey Dash.
The notoriously fast and deep field of top British talent assembled once more for the race that also incorporated the England Athletics 10k Championships.
Central AC's Andrew Butchart won the race in 29:17 and dragged seventeen men inside thirty minutes (and fifty-three below the 31-minute mark) whilst GB international Steph Twell (32:28) took the women's honours ahead of nine ladies that also went well-inside thirty-four minutes over the out-and-back course.
There were eleven personal bests for the yellow and blue among the twenty-two runners that travelled up on the team coach, plus glory for Lily Winfield in the Junior Dash. Lily, who has been in fantastic form this winter so far, finished first girl (fifth overall) out of 239 competitors in the one mile run. 
Lisa Palmer was Heanor RC's leading lady in the 10k as she ran an astonishing personal best of 35:20. The British Masters 5,000m champion, who is set to make her England debut next weekend at the British and Irish Masters Cross Country International in Nottingham, took a magnificent forty-nine seconds off her previous best and finished nineteenth female overall.
Last weekend's BDL Cross Country race winner, Stuart King, chopped twenty-six seconds off his previous best to lead the way for HRC with a time of 31:20.
Whilst the number of personal bests that were revised on Sunday was impressive in itself, the sheer scale and size of the drops was on a different level.
Matt Bickerstaff (32:16) slashed another half-a-minute off his best time whilst Joe Rainsford (32:00) narrowly missed out on a second sub-32 minute clocking of the year.
Steve Ashmore (34:53) ran his fastest time since 2010 whilst there was a cluster of HRC runners – PBs included – that went inside the 39-minute mark.
Gary Mellors obliterated his personal best by over a minute, taking down both the 40- and 39-minute barriers to run 38:53. Lee D'Arcy finished just three seconds in front in 38:50 whilst Robert Page (38:58) slashed a whole minute off the time he ran at the Shelton Striders 10k just six weeks ago.
Carl Hughes (38:32) repeated Rob's trick by taking a minute off his personal best whilst Wendy Mullineux (38:45) enjoyed perhaps the standout performance of her running life so far to smash the 40-minute mark and take almost two minutes off her previous best.
Jill Burke (41:06) ran her second-fastest 10k of the year and finished fourth in the V50 category and Paul Mercer recorded 41:37 whilst Richard Charlesworth ran 41:59.
Laura Beth James-Hutchinson (41:17) continued her remarkable PB-setting form to drop her 10k time down ever closer to the 40-minute mark as Paul Winfield (42:42) and Abbie Leivers (44:34 – a whole seven minutes faster than her best from 2013) continued the personal best assault.
Also taking chunks off their bests were Lesley Smith (45:37) and Rita Fisher (47:34) whilst Scott Wigman sliced one second off his best mark set last month as he crossed the line with David Henton in an identical time 45:01.
Completing the HRC senior efforts on another successful trip to Leeds were Jo Potter (48:31) and Jeff Everitt (50:00).
Full results HERE
On the same morning, Paul Bratby and Lizzie Poole competed in the Beacon Trail Half Marathon. whilst Ian Mellors and Matt Jackson were in action at the Skegness 10k.
Rising to a height of 245m, Beacon Hill is the second highest point in Leicestershire but both Paul and Lizzie, who described the event as a "proper tough race", took on the challenge and came away pleased with their efforts whilst Ian ran a personal best on the Lincolnshire coast (awaiting results).