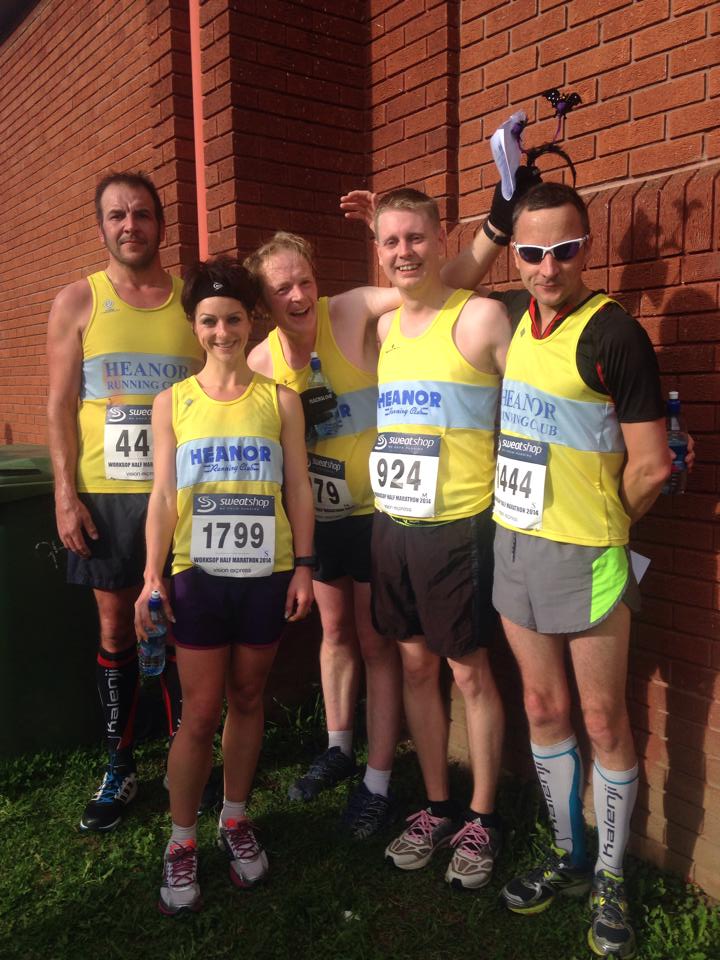 An impressive baker's dozen grasped the opportunity to pick up Club Championship points in the penultimate fixture of the 2014 campaign at the Worksop Half Marathon last weekend.
The HRC Club Championship features a series of fourteen events across the year in which the yellow and blue collect points in relation to their finishing position among clubmates, with their best seven scores at the end of the year going towards their final points tally.
A regular fixture on the club calendar, the Nottinghamshire event last weekend saw six personal bests plus a second-placed finish for Stuart King among the 1705-strong field.
Indeed, King's 1:12:41 effort behind the winner, Notts AC's Stuart Spencer (1:10:18), was enough to see the twenty-five year old all but secure the club championship title in his first full season with the club.
Laura Beth James-Hutchinson was Heanor RC's leading lady as she cracked the top-200 and continued her rapid progression with another huge personal best.
Laura has slashed over six minutes off her PB since March and took over one minute off the time she set just last month at the Robin Hood Half Marathon. Laura's time of 1:33:54 saw her finish 13th female overall.
The three Pauls all recorded new personal bests on the undulating course. Paul Harpham (1:24:38) took almost a minute off the time he ran exactly a year before to finish 50th whilst Paul Mercer (1:36:59) and Paul Winfield (1:37:55) showed no ill-effects from their efforts at the British Masters Cross Country Relays just twenty four hours before.
Lizzie Poole (1:44:40) enjoyed her race experience, posting on Facebook afterwards: "Brilliant weather, great organisation and loads of people cheering. What a fab race!" whilst Brett Beeson (1:44:05) ran his fastest half marathon of the year by almost two minutes.
Rita Fisher clocked 1:48:21 to finish eighth in her category, Carl Hughes (1:30:39) finished 138th and Ed Godber (1:36:26) 281st just seven days on from the Valencia Half Marathon whilst Lee D'Arcy ran 1:35:53.
Scott Wigman recorded a massive, near-four minute personal best to cross the line in 1:38:01 as Jo Potter dipped inside the 1:50-mark for the first time on her way to a time of 1:49:19.
The final event in the 2014 HRC Club Championship is the popular and potential PB-setting Leeds Abbey Dash, which takes place one week before the Matthew Walker 10k on Sunday 16th November.
Full results HERE